Tyler Knott Gregson of Helena starts every day the same way. He gets out of bed, sits down at his kitchen table and pounds out a poem on an old typewriter. It's his muse — a way of writing that doesn't allow for multiple drafts. What sticks is often beyond loveliness achieved through revision. Here's Typewriter Series #111: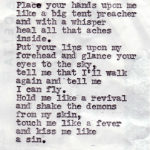 Gregson publishes his daily poems on his website, tylerknott.com. He's also got more than 30,000 followers on Pinterest.
Producer Clay Scott voiced and mixed this piece, one of more than 180 he's produced for his series of fascinating people and places, Mountain West Voices. You could do much worse than to take a deep dive into Clay's archives at mountainwestvoices.org. You can also find and navigate his work at PRX.